Laird Connectivity

- Laird is an industry leader for embedded wireless solutions that provides the widest range of wireless modules and systems for OEMs and system integrators.

Embedded Wireless Solutions from Laird include Wi-Fi®, Bluetooth®, and RAMP ISM (Range-Amplified MultiPoint) radio modules:
BT900 Series of Intelligent Bluetooth 4.0 Dual Mode Modules
Publish Date: 2015-02-04
Includes an embedded Bluetooth 4.0 software stack for Classic Bluetooth and Bluetooth Low Energy (BLE) capabilities.
Duration: 5 minutes
BT800 Series Bluetooth v4.0 Dual Mode Modules
Publish Date: 2013-10-23
The BT800 v4.0 series is a dual-mode, or Bluetooth Smart Ready Module, that supports a USB HCI interface with HID proxy mode.
Duration: 5 minutes
BT700 Series Bluetooth Modules
Publish Date: 2013-09-26
The BT700 series are Class 1 Bluetooth v2.0 and v2.1 modules that feature a compact 15 mm x 29 mm footprint.
Duration: 5 minutes
BL600 Series
Publish Date: 2013-07-11
Single-mode, Bluetooth Smart module using a smartBASIC core, allowing it to support a range of applications including blood pressure and heart rate monitors.
Duration: 5 minutes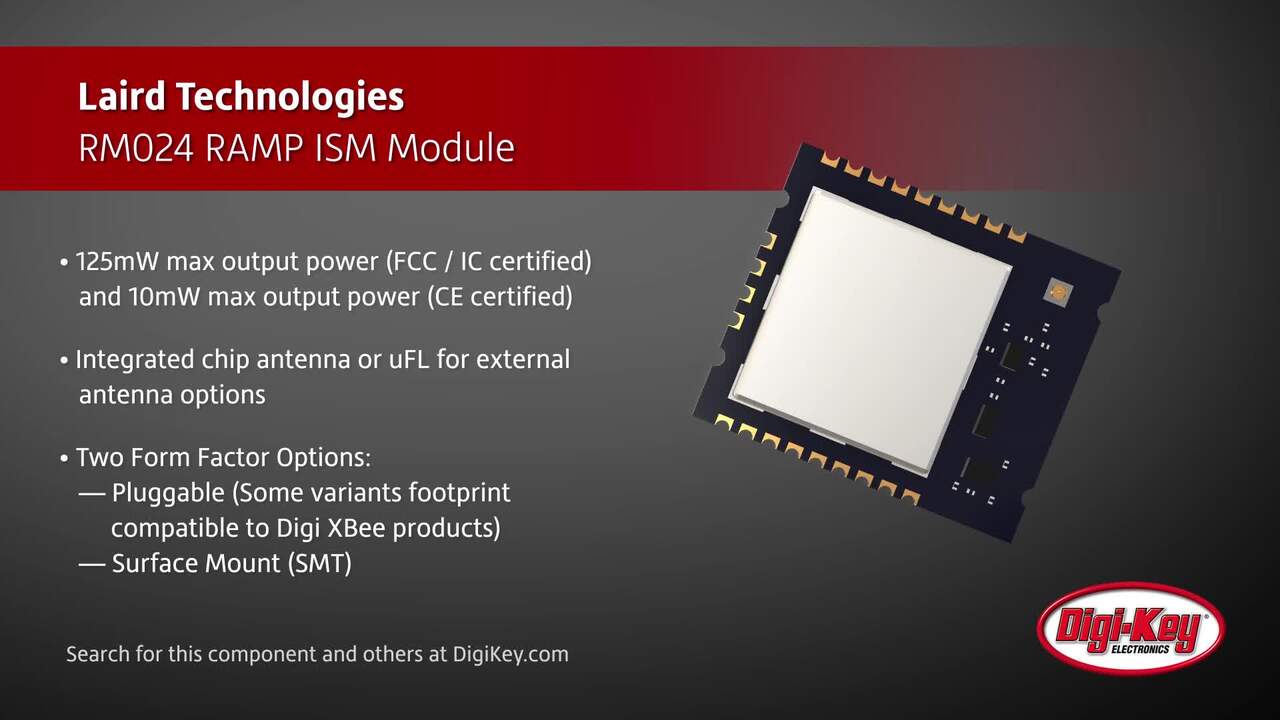 Laird RM024 RAMP ISM Module | Digi-Key Daily
The RM024 RAMP ISM module is based on Laird Technologies' LT2510 core technology, enhanced with a new RF front-end for improved sleep, improved link budget, and a switchable antenna output.
Additional Content
Related Product Brands

Webinars

White Papers


Security 802.11n, 5 GHz, and Bluetooth Mobility and Other Topics